Diastasis Rectus Abdominis: Abdominal separation
Nov 25, 2019
WHAT IS DIASTASIS RECTI?
Diastasis Rectus Abdominis (DRA) is the widening or separation between the two sections of the 6-pack abdominal muscle – the "Rectus Abdominis." The separation occurs at the linea alba which is the tissue connecting your abs and runs down the center of your abdomen. When the linea alba becomes stretched or weak, it can look like doming, bulging, sinking or herniating in the middle of your belly.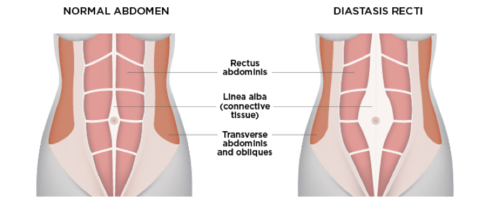 Diastasis Recti can happen when the pressure of a growing baby causes excessive stretch on the abdominal wall or after many years of abdominal loading with poor technique. DRA is a normal part of pregnancy and almost 100% of women experience DRA during their third trimester. Separation or widening of the linea alba can also occur in men, post-menopausal women and newborn babies.
Normally this natural widening resolves itself in the weeks following delivery, however in approximately 1/3 of post-natal women, the separation can remain. The cause is largely unknown, but some hypotheses include genetics, lifestyle, or activities pre and post-natal such as constipation, repetitive lifting and inappropriate abdominal loading exercises. DRA is not life-threatening but can have a negative impact on a person's body image, self-esteem, and abdominal and pelvic floor function.
There is often a lot of attention surrounding the "gap" between the abdominal muscles, however recent research shows that the most important factor is actually the amount of tension in this tissue and its capacity to transmit loads.
Pelvic health physiotherapists are experts in assessing DRA and providing treatment to increase the tension in this tissue. DRA should be considered a normal part of pregnancy and rehabilitation is only indicated if excessive separation is ongoing or if you find that your abdominal function remains compromised. If you need further guidance on your recovery, seek referral to a pelvic health physiotherapist.
Book an appointment today with one of our Pelvic Floor Physiotherapists by calling 780-458-8505.
Please add your bio info through your member profile page, or through your dashboard.